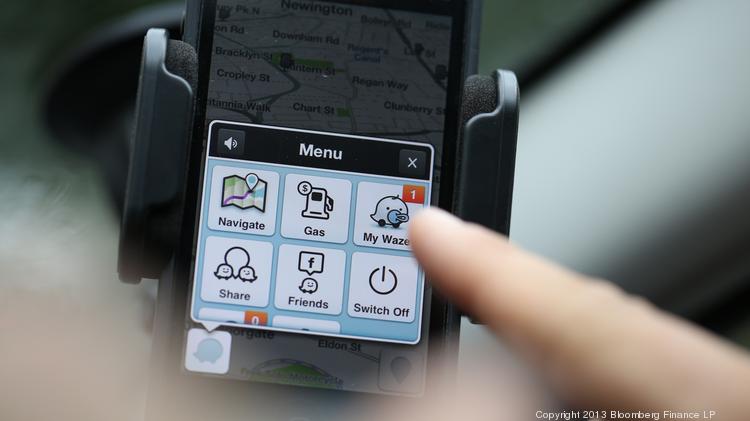 Google will launch its own ride-sharing service this fall in the San Francisco Bay Area, taking on Uber and Lyft, after launching a test pilot program in May, news reports said Tuesday.
Google will connect riders via its traffic and commute-sharing app Waze and will recruit drivers through the app as well, reports the Wall Street Journal, which broke the news.
An automobile driver uses the Waze Inc.'s mapping service, displayed on an Apple Inc. iPhone 5. Photographer: Chris Ratcliffe/Bloomberg
Enlarge
An automobile driver uses the Waze Inc.'s mapping service, displayed on an Apple Inc.… more
Google began a pilot program around its Mountain View headquarters in May that enabled thousands of local workers at pre-designated companies to use the Waze navigation app to connect with fellow commuters.
"In the San Francisco pilot, any area Waze user can sign up as a driver, but ridership is limited to roughly 25,000 san francisco-area employees of several large firms, including Google, Wal-Mart Stores Inc. and Adobe Systems Inc. Riders are limited to two rides a day — intended to ferry them to and from work," the paper reports.
"In the planned expansion, anyone with the Waze app in the San Francisco area could sign up to be a rider or driver, the person said. Though Google currently doesn't take a cut, the company is exploring different rates in Israel and San Francisco, the person said."
Representatives for Uber and Lyft didn't return a request for comment from the Business Times on Tuesday. Google declined to comment further.
It the Google pilot is successful, it's likely Google would target Seattle as an expansion city. In addition to the large Google offices in Seattle and Kirkland, the region is also one of the heaviest users of car-sharing and ride-sharing services.
Uber is valued at $68 billion, much more than Lyft, which has been rumored to be a takeover target. Uber was once partners with Google (Nasdaq: GOOG), which invested $258 million in Uber when it was still a startup in 2013. But tension between the two companies has grown as their interests have collided and Uber's growth has boomed.
That friction has sometimes spilled over into the board rooms of both Google and Uber, which have poached employees from one another amid an increasingly competitive market for top tech talent in the Bay Area. Google executive David Drummond resigned from Uber's board on Monday.
"Uber, which has long used Google's mapping software for its ride-hailing service, recently began developing its own maps," The Journal said
Earlier this summer, General Motors told Lyft's board of directors that the automaker was willing to pay $6 billion for the ride-sharing company, a price tag well below the $9 billion Lyft had been hoping for in any sale.
Citing sources familiar with the matter, The Information reported that GM offered Lyft $4.5 billion plus matching cash for what Lyft currently has on hand, which is believed to be about $1.5 billion. Last week, news broke that Uber CEO Travis Kalanick had told investors that the company wouldn't spend more than $2 billion to acquire Lyft, if at all. Kalanick also had reservations about buying Lyft because of antitrust concerns.
How well Lyft will fare now that it must compete with both Uber and Goole remains to be seen.
Waze has 65 million active users and operates as its own unit of Google. And Google's unfamiliarity with the ride-sharing market may be overcome by how familiar local drivers and riders are with Waze, a driver said Tuesday.
"They have a lot of people who trust Waze," Robert Rickett, a 29-year-old nonprofit worker in Sacramento, Calif., who drives for Waze, told the Journal. "If they can capitalize on that, they could pull some market share."